The drive-thru experience is a favorite among Americans. Customers drive up and zip out, food in hand, with minimum wait times. Being a time-saver is a major convenience; interestingly, this speed of service is also a practical way to keep customers safe during the coronavirus pandemic.
Social distancing mandates have become the norm during the Covid-19 health crisis, making many people turn to the drive-thru for restaurant food. In fact, the Centers for Disease Control (CDC) concludes that the drive-thru has the lowest risk when it comes to exposure to the coronavirus.
The limited social interaction at the drive-thru is one reason it is so safe. Customers place an order at the drive-thru speaker box, pay for the order and pick up the food with minimal human contact. Unlike the traditional dine-in experience, the drive-thru is an advantage during these unprecedented times.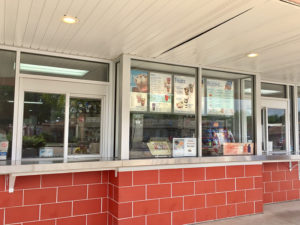 Diners have come to depend on the drive-thru, especially families with children who are out of school due to Covid-19. Frequent cooking at home will be replaced by heading to the drive-thru, which also helps parents and their kids get out of the house amidst the nationwide lockdowns.
But with so many consumers relying on the restaurant drive-thru, demand will peak. Fast food restaurants are seeing long lines of 10 or 20 cars. Restaurants are scrambling to find ways to efficiently and accurately deliver food while keeping customers and employees safe from exposure to Covid-19.
For this reason, many companies are also adding walk up transaction windows, where customers can order without dining-in, or delivery services can pick up without going through the drive thru lane. These pass thru windows can often be added by having a commercial glass company replace a section or two of storefront with a pass-thru window.
---
Safety measures at the Drive Thru / Walk Up transaction space include:
1. Shields / Hand off Shelves / Service Drawers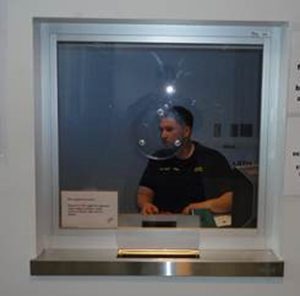 Restaurants are adding additional layers of separation at the drive thru to protect staff and patrons. These measures include acrylic shields, hand off shelves, and thru-wall service drawers. Service drawers were initially designed for security, but have found a new role in social distancing.
2. Hand Hygiene
Besides technology, fast food restaurants are implementing practical means to keep customers and employees safe from exposure to Covid-19. Employees are required to wash their hands frequently with soap and water, especially before, during and after handling food and touching garbage.
Restaurant staff are urged to wash their hands after coughing or sneezing and upon using tissues. When soap and water are unavailable, drive-thru personnel are encouraged to rub their hands with generous amounts of hand sanitizer containing at least 60 percent alcohol.
Fast food restaurants are making hand hygiene supplies readily available to employees to support handwashing. Managers ensure plenty of soap, hand sanitizer with 60 percent alcohol, paper towels, disinfectant wipes and contactless trash cans are accessible to employees at all times.
Some are also looking to provide hand sanitizer at the drive thru for customers to use before they steal a fry or dine in their car.
3. Staggered Shifts
Employees who show symptoms of the coronavirus disease or who have come into contact with a person sick with Covid-19 are encouraged to stay home. Restaurant managers also stagger shifts to limit the number of staff onsite at any given time and to maintain social distancing.
4. Touchless Payment
Fast food restaurants are also implementing touchless payment options. Cash and credit cards will be placed on a receipt tray in order to avoid hand-to-hand contact. Employees are instructed to disinfect these trays and surfaces frequently and in between customers.
5. Face Masks
Protecting others from exposure to Covid-19 is critical, and face masks worn by drive-thru employees ensure customer and employee safety. Cloth face coverings are especially important when physical distancing is challenging—such as at the drive-thru window pick up station.
Despite the worldwide upheaval caused by the Covid-19 pandemic, drive-thru customers and walk-up customers can somewhat relax by knowing that the coronavirus is not known to be transmitted through food or food packaging. Plus, drive-thru workers sanitize their spaces frequently to protect customers and themselves.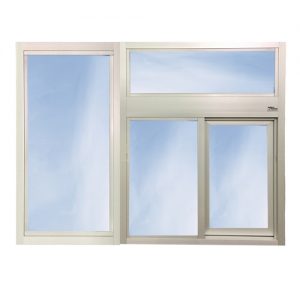 Ready Access Windows
If you are looking to replace or add a walk up window or drive-thru window, turn to Ready Access for high-quality drive-thru window and walk up window options. We offer a range of sizes, glass types, and operating systems.
While fast food drive-thru establishments often see a need for new or replacement windows, various additional industries also benefit. Ready Access drive-thru window project types include restaurant walkups, banks, concession windows, convenience stores, theaters, car washes, pharmacies, and dispensaries, among many more.