Helps with Social Distancing
With lobbies and dining rooms closed, operators are looking to protect their employees & guests at the drive thru or walk up window. After all, this is where the majority of business is taking place. Ready Access has long offered a factory installed glass window shield. But given the current Covid-19 climate, there is now a retrofit sneeze guard solution available to provide a more professional look than the duct tape variety you may encounter.
Why get a retrofit window shield from Ready Access vs an aftermarket vendor?
Here are the key benefits:
Window shield can be matched to your window's serial #'s size and frame color. Having a matching metal frame and speak thru makes it look more professional to better represent your brand.
Speak thru option discourages employees from leaning down to the open space to hear.
Sneeze guard is easy to install with double sided commercial tape.
No screws – so you do not damage the integrity of the existing window and void the warranty. (ex: screws might damage rollers in the header /cracking the glass / creating holes that lead to water infiltration/etc).
Plexiglass panel is light and easy to ship.
The operable panel(s) of the window will still open/close/lock without interference from the shield.
Window shield can be safely removed if no longer deemed necessary.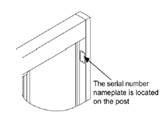 To order, we will ask for the serial number of your window to confirm the size/color. You can find the serial number on the interior post of the window.
---
This may be the new normal – consider adding a glass factory installed shield to your new window
Many designers are now incorporating a glass factory installed glass shield for new projects.
Operators may find that in addition to protecting their employees and guests, it also helps with security, HVAC efficiency and helping food hold temp.
Click here for more information on window shields: https://www.ready-access.com/fixed-restriction-panel-screen/
Window Sneeze Guard Shield Cut Sheet
Window Sneeze Guard Shield Installation Instructions